In certain circumstances, the answer may be yes.  In Aguilar v. State, 43 Fla.L.Weekly D179a (3rd DCA 2018), Juan Aguilar appeals a conviction for DUI crimes DUI Manslaughter, DUI with person or property damage, and DUI causing serious bodily injury, along with two counts of DUI, the lesser included offense.  These charges arose out of a three car accident that occurred at around 3:00 a.m. one evening.  Aguilar lost control of his car and struck one person who died, two who suffered serious bodily injuries, and one who suffered minor injuries.  A state trooper observed Aguilar was "somewhat unresponsive, incoherent" and had "blood shot watery eyes," "slurred speech," and "had odor of alcohol" coming from his person and car.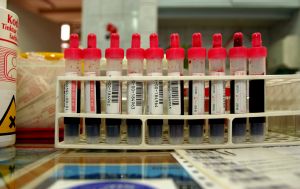 The state trooper indicated that because there were "significant indicators" that Aguilar was displaying an "alcohol related impairment," he came to the trauma center where Aguilar was taken to get a "blood draw."  He indicated that he made no effort to get a warrant to obtain the blood because of "time restraints."  He indicated that he again smelled an odor of alcohol and noticed his face was "flushed" and his eyes were "bloodshot and watery."  The blood sample taken, without consent or a warrant, showed a blood alcohol level of 0.112.  Aguilar filed a motion to suppress the blood test results due to a lack of probable cause and lack of warrant.  The State introduced evidence that it would have taken at least four hours to obtain a warrant and that "because of the natural metabolization of alcohol in the bloodstream, there were time constraints creating exigent circumstances to justify an exception to the warrant requirement."  The trial court denied the motion to suppress.
The U.S. Supreme Court has addressed the exigency exception to blood testing in DUI cases several times.  It held that an exception to the Fourth Amendment for searches conducted outside the approval of a judge applies when "the exigencies of the situation make the needs of law enforcement so compelling that a warrantless search is objectively reasonable under the Fourth Amendment."  The U.S. Supreme Court has held that natural dissipation of alcohol in the bloodstream was not a per se exigency, but one factor to consider in the totality of the circumstances test.