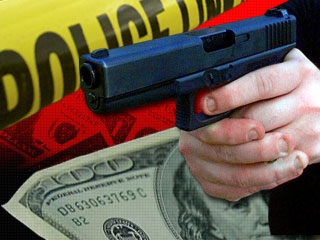 Currently, Jacksonville Sheriff's Office is on the hunt for a Jacksonville man wanted for the alleged arm robbery of a cell phone store last Friday. According to the Police reports, the man entered a Metro PCS store located on Soutel Dr. and demanded the money from the register while brandishing a weapon to the employee. No one was hurt during the incident, but the suspect did get away with an undisclosed amount of money. This incident leaves the question what is Armed Robbery and what are the penalties?
Robbery is defined within Florida Statute § 812.13; it reads, "'Robbery' means the taking of money or other property which may be the subject of larceny from the person or custody or another, with intent to either permanently or temporarily deprive the person or the owner of the money or other property, when in the course of taking there is a use of force, violence, assault, or putting in fear." Basically, if the property stole was taken in your presence and you were fearful of injury or death from an armed suspect, then an Armed Robbery has been committed.
There are two types of robbery; with or without a weapon. Robbery without a weapon is a second-degree felony, which could have a potential sentence of up to 15 years and/or a $10,000 in fines. In contrast, an Armed Robbery is a first-degree felony, having a penalty of up to 30 years or life imprisonment (as provided for in the Statute) and/or $10,000 in fines. These are harsh penalties and a Jacksonville robbery charge should not be taken lightly.
An Armed Robbery charge could negatively impact the rest of your live. A Jacksonville Criminal Lawyer knows the law and possible defenses to these types of allegations and can work with you for the best possible outcome. The advice and counsel of a Jacksonville Criminal Defense Lawyer could prove to be invaluable. With that being said, if you or a loved one are facing a Jacksonville Armed Robbery charge or any type of Jacksonville Criminal Charges, contact a Jacksonville Criminal Defense Lawyer to discuss your case and to make sure your rights are being protected.