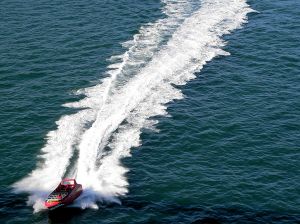 On Sunday, a 22-foot boat crashed into a tug that was docked in Palm Valley, Florida.  The boat was traveling from St. Augustine to Jacksonville, Florida.  Five people were killed and several others were injured.  Witnesses claim that the boat was traveling at a high rate of speed.  Moreover, the Florida Fish and Wildlife Conservation Commission is investigating the circumstances surrounding the crash, including boating under the influence.  
under the influence of alcohol or a chemical substance to the extent that the person's normal faculties are impaired or 
the person has a blood or breath alcohol level of 0.08 or higher.  
The penalties for Jacksonville Boating Under the Influence are similar to Jacksonville DUI penalties with some minor differences.  The most significant difference is that a Jacksonville Boating Under the Influence conviction will not result in a Florida driver's license suspension.  However, it will suspend your boating privileges.