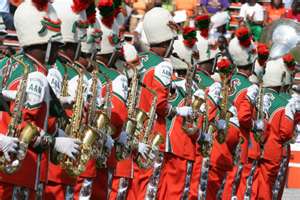 Florida A&M University has made national news headlines once again with more Hazing incidents within the "Marching 100." Currently, two professors have been placed on paid administrative following allegations of their presence during Hazing incidents in 2010. The allegations further detail that some of the incidents occurred at the professor's home in early 2010.
According to the reports, the incident including slapping the backs and necks of the pledges as well as potentially harsh paddling. Unfortunately, no charges are going to be brought because the State cannot prove the incident occurred within the 2-year statute of limitations on Hazing.
FAMU first made national headlines when drum major Robert Champion died from injuries he sustained from Hazing incidents two days earlier on the school bus following a Football game. Since that time FAMU has been plagued with allegation after allegation, suspension after suspension, and arrest after arrest all stemming from Hazing incidents and the University Band, "Marching 100."
As a Ponte Vedra Criminal Defense Lawyer, I know these seemingly innocent or right of passage acts may seem harmless, but the legal ramifications are quick harsh. The FAMU band members have obviously gotten out of control. Hazing is a criminal offense in Florida and is against every school's policy. No matter what type of organization, Fraternity, or otherwise, Hazing is illegal. Furthermore, these individuals who participate in Hazing open themselves to civil penalties as well, according to a Jacksonville Personal Injury Lawyer. Therefore, If you or a loved one have been charged in a Hazing incident, contact a Ponte Vedra Criminal Defense Lawyer to discuss your case and to make sure your rights are being protected.