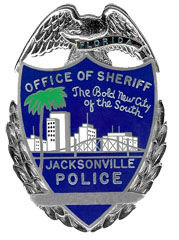 Earlier this week, Tuesday, three uniformed police officers were shot at while conducting an undercover investigation following a recent carjacking in the area. Luckily none of the officers were hurt during the incident, but the vehicle did sustain two gun shot wounds. Later in the week, Jacksonville Police arrested Fred Calvin Childs for the attempted murder of the police officers.
The Jacksonville Police were located at the Forest Park apartment complex shortly after 8 PM on Monday conducting an undercover investigation. During their third trip around the complex someone in a crowd of people opened fire on the officers. Most of the shots missed, but two struck the passenger side of the vehicle. The police left the area and quickly returned to question witnesses. Several people were taken into custody for questioning and later Mr. Childs was arrested after finding a handgun in his apartment.
This case is still in the initial stages and the charges against Mr. Childs are likely to change. When facing a murder charge, the advise and counsel of a Jacksonville Criminal Defense Lawyer will be advantageous to a Jacksonville Criminal Defendant. The legal process is complicated, complex, and not always favorable to unrepresented Jacksonville Criminal Defendants. That is why it is important to contact a Jacksonville Criminal Defense Lawyer if you are facing Criminal charges or already have Criminal charges pending. They will be able discuss your case with you, determine possible defenses and justifications, and work with you for the best possible outcome in your Criminal law matter.