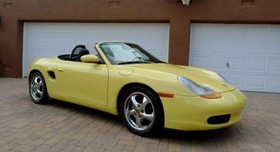 Recently, a 19 year old St. Augustine Beach resident, Chase Cameron, has been arrested and charged with Stealing a motor vehicle and burglary after a morning full of mischief. According to police reports the suspect stole the Porsche early Sunday morning and sometime after decided to burglarize a local Christmas Tree lot.
Mr. Cameron stole a 1998 yellow Porsche Boxster and was caught at a local fast food restaurant after someone called the police because he was acting "nervous and irritated." However, much to the police's surprise, inside the vehicle was evidence of another crime, burglary. Located inside the vehicle were tools, the cash register, the credit card machine, and candy canes, all belonging to a local Christmas Tree lot.
The suspect, Mr. Cameron is currently being held in St. Johns County jail on a $18,000 bond.
Criminal charges can be live altering, especially if you take on the legal system without legal representation. If have been charged with a criminal offense or have pending criminal charges, contact a Jacksonville Criminal Defense Lawyer to discuss you case and determine what is the best course of action in moving forward in your case.